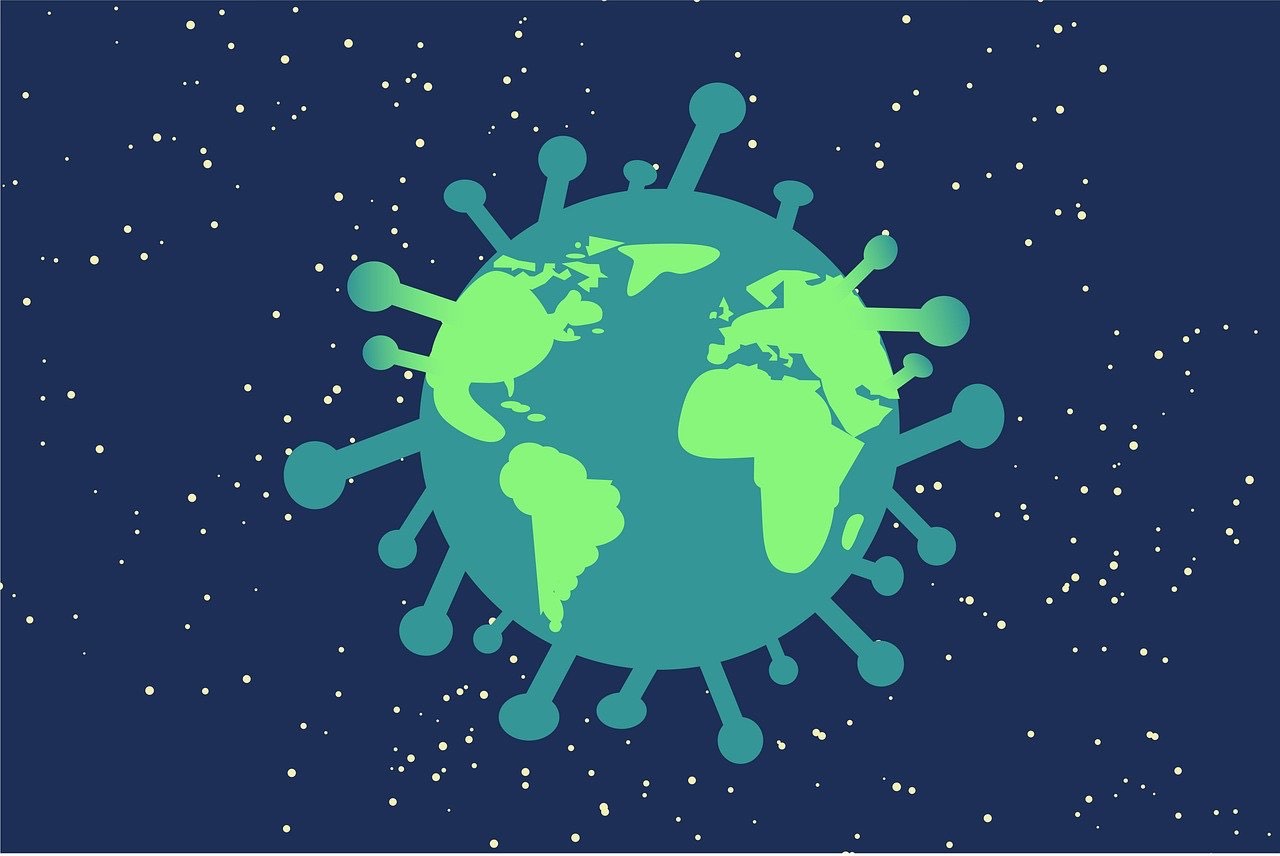 Face masks are optional for everyone.
Current building hours & curbside pickup: Mon-Thurs: 9am-8pm, Fri: 9am-6pm, Sat: 9am-1pm.
Services: checkout, return & browse materials; computer & WiFi access; and print, copy, fax & scan. Mostly back to in-person programming again. (Digital resources also available)
Curbside service is available during our open building hours. Call us at 262-284-5031 to arrange for it or select curbside pickup in the Monarch2Go app.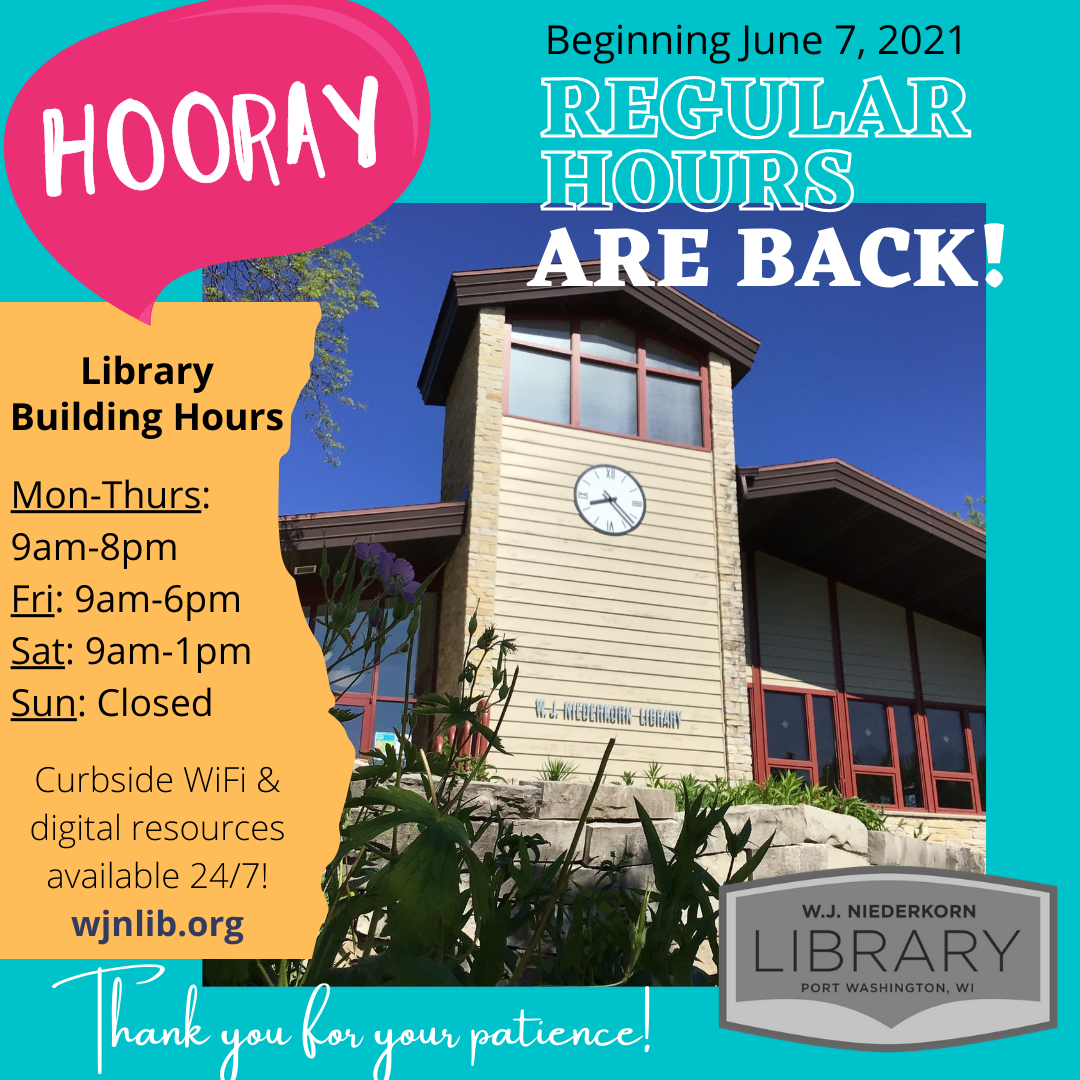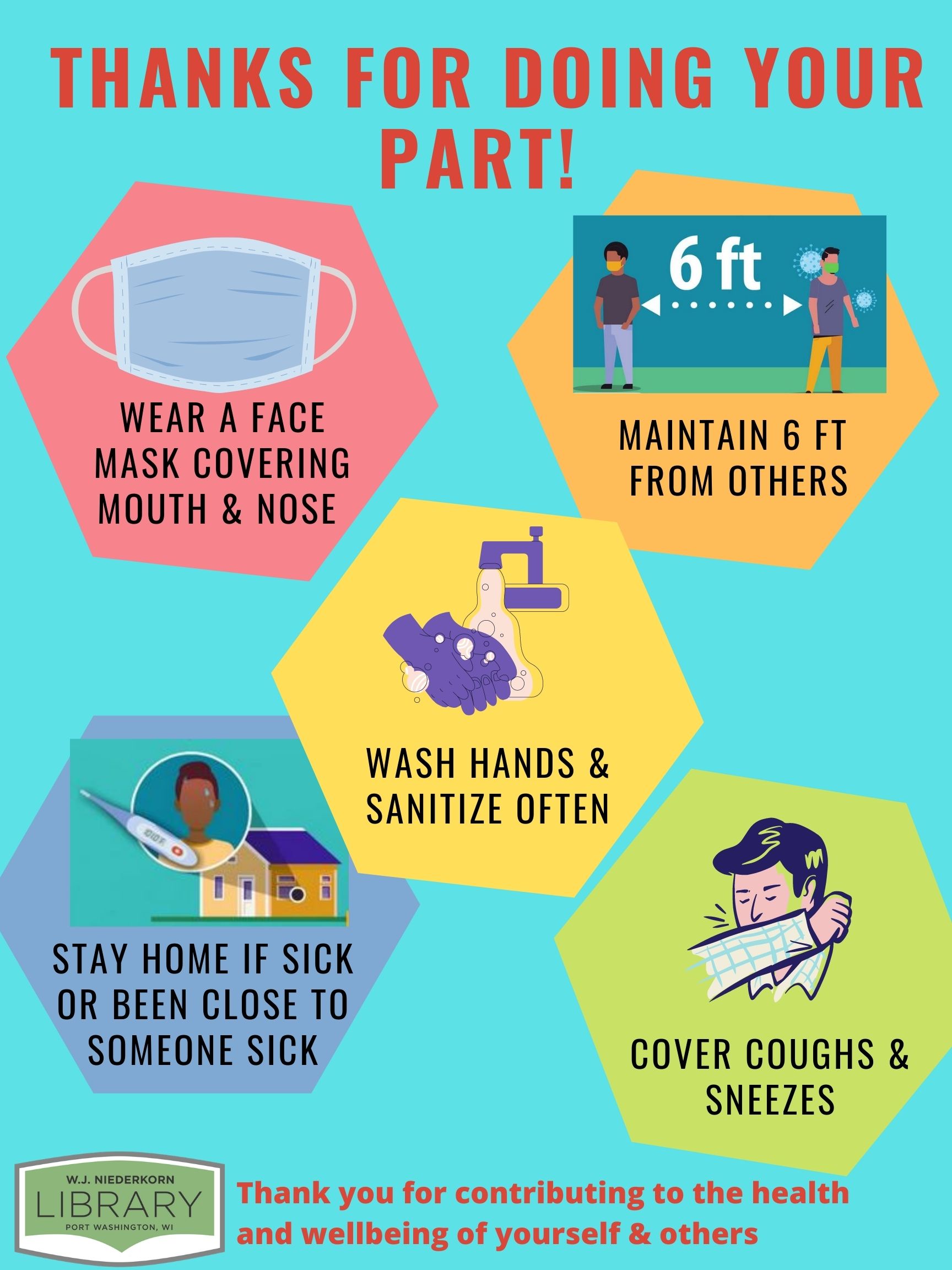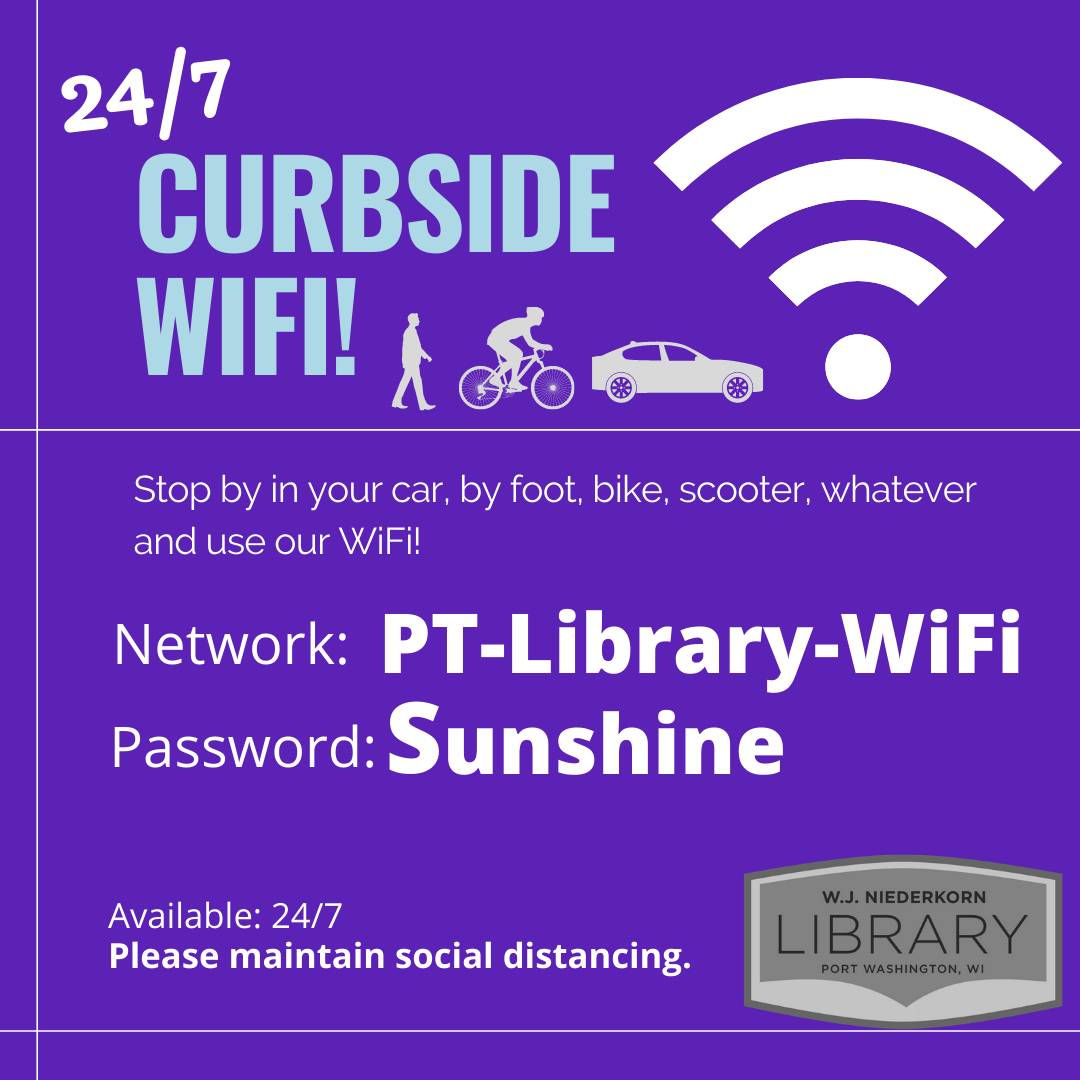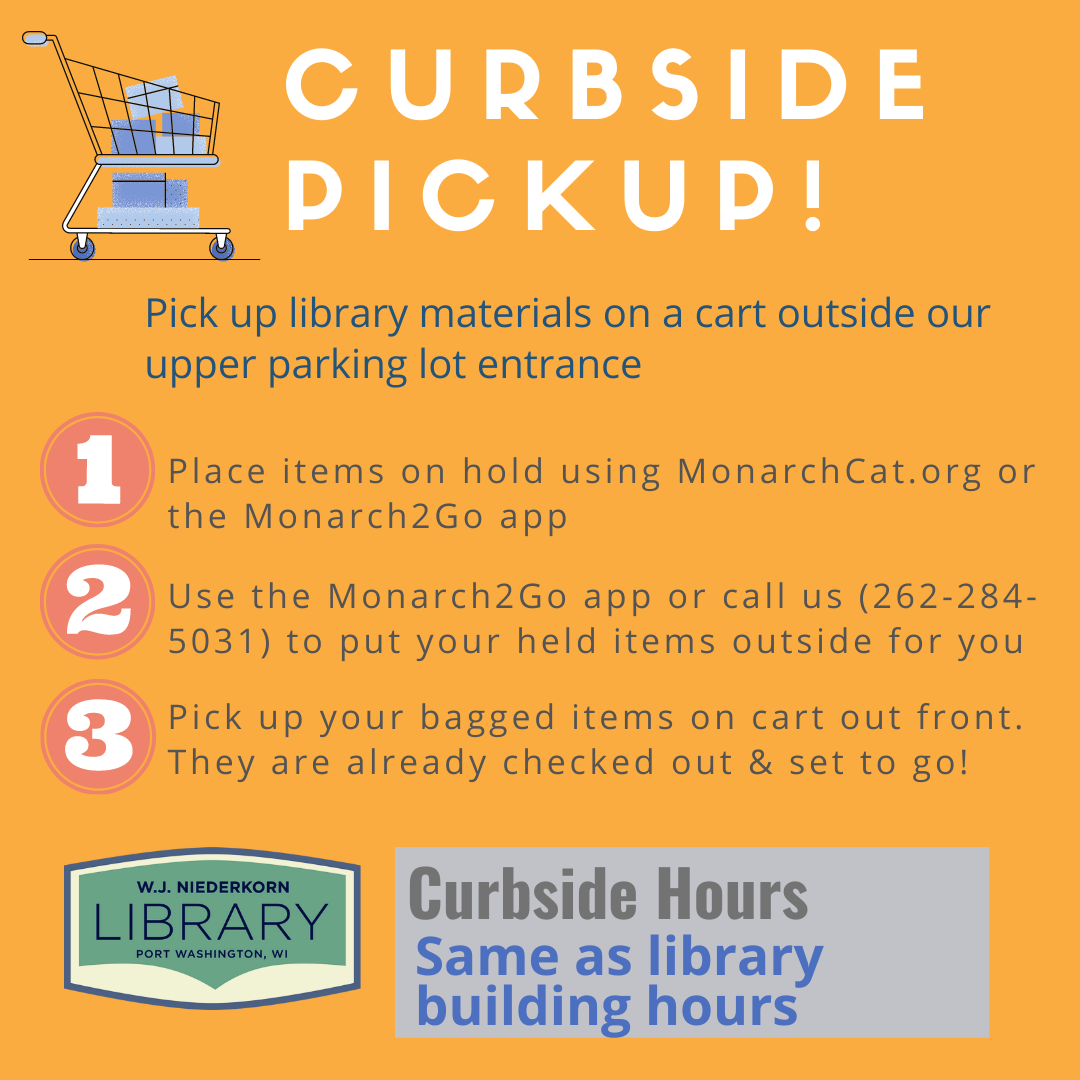 History of cancellations/updates:
WHOLE LIBRARY BUILDING CLOSED TO PUBLIC STARTING AT 5 PM, MONDAY, MARCH 16, 2020 UNTIL FURTHER NOTICE.
All public programming is cancelled as of the evening of Fri, March 13, 2020. This includes all library programming and all meeting room bookings.
WHOLE LIBRARY BUILDING CLOSED TO STAFF beginning at 12pm on Tuesday, March 24, 2020.
All material due dates checked out on 3/16/20 or later are extended. Any fees incurred during this closure will be waived (exception- replacement/damaged item fees).
Staff back in the building beginning Monday, April 27, 2020. We will begin curbside pickup of materials this day at 10am.
Children's Curbside service began Friday, May 1, 2020. This service offers pre-bundled batches of books and craft kits. Location: table outside lower level/Grand Ave. entrance. Hours: MON/WED/FRI 10am-12pm, weather permitting.
Book Drop and Media Drop are open again as of May 4, 2020 with limited hours: MON-FRI, 10am-6pm. Items are quarantined for 72 hours before being checked in.
With the Wisconsin Supreme Court overturning the state's Safer at Home order on May 13, 2020 you may be wondering when we the library will be reopening the building to the public. Answer: we're not sure yet.
The library building will be reopening to the public on Monday, June 8, 2020 with limited services and hours. Mon-Fri from 10am-6pm. Checkout, return & browse materials; computer & WiFi access; print, copy, fax & scan. Please keep visit to 1 hour or less per day. Limit of 20 people per floor of the building at a time. Please respect social distancing and wear a face mask. Curbside service will continue to be available.
Although our building doors are open to the public again as of 6/8/20, we are continuing to offer Curbside Pickup as well. Curbside Hours: Mon-Fri, 10am-6pm. Call 262-284-5031 to arrange for curbside pickup.
CHILDREN'S "BUNDLES BY REQUEST" -Children's Curbside was a service we also offered with pre-bundled batches of books. However, this service has now ended and switched to "Bundles by Request" instead. If you'd like a librarian to hand pick titles for you, please contact Assistant Director Rosalia Slawson at 262-284-5031 or rslawson@monarchlibraries.org. (Ex: Can you please select 5 picture books about trucks for me to pickup for curbside service?)
Outside Book Return and Media Return now open weeknights overnight as of 7/1/20. Outer drop hours are: open/unlocked at 10am Mondays and closed/locked at 6pm Fridays.
Please note that there is a 3+ day delay on returned items being checked in. This is due to a minimum of 72 hr. quarantine on returned materials. At check-in we backdate to the date originally returned, so the system treats it like was returned when it actually was.
Quarantine time of returned materials is now 96 hours as of July 22, 2020 due to study results released as part of Battelle's REALM Project, conducting research specifically on library materials and the SARS-CoV-2 virus. More info here.
Per Governor Evers' Emergency Order effective Aug 1 to Sept 28, 2020, face coverings are now required to enter the library building for everyone ages 5 & up. Exceptions include individuals with breathing troubles or other prohibitive medical conditions. See the full Emergency Order here.
Governor Evers' Emergency Order has been extended until Nov 21, 2020.
As of 10/15/20, returned items are now quarantined for 24 hours instead of 72 hours due to updated research and advice from medical and epidemiology experts.
Face coverings are still required to enter library building for those ages 5+ (even though official Governor's Order has ended).
As of 2/10/21, we will no longer be making medical exceptions as a reason to not wear a face mask inside the library building. For everyone ages 5+, you must wear a mask that covers both your nose and mouth in order to enter the building. We offer digital and curbside services for those unwilling or unable to wear a mask. Face shields and scarves are not substitutes.
As of 2/12/21 our outer book and media drops will stay open 24/7 again. Thank you for your patience.
Beginning Saturday 3/13/21 our library building will be open on Saturdays again. Saturday hours are 9am-1pm.
Curbside WiFi is now available 24/7 as of 3/8/21.
We will no longer be quarantining returned library materials as of 4/14/21, based on the latest recommendations from the WI Department of Public Instruction. If people would still like to take extra precautions, we recommend doing your own quarantine of library materials.
We will also stop our contactless check-outs at the service desks (meaning library staff will touch library materials by hand again to check them out) as of 4/14/21.
The second indoor book drop at the upper floor Check-out Desk is open again as of 4/14/21.
Quiet Room is open to the public again as of 4/14/21. Please limit use to 1 hour daily and maintain social distancing. Masks must still be worn inside the Quiet Room.
As of 6/2/21 per City of Port Washington Resolution No. 2021-6, face masks are now optional for everyone in our library building. We still highly encourage those who are not vaccinated to wear masks.
As of 6/2/21 we no longer have a limit of 1 hour per day for 'express use' of the library building. We no longer have a limit of 20 people per floor either. We are also offering many in-person library programs again.
As of 8/11/21 face masks are now encouraged for everyone ages 2+ (both vaccinated and unvaccinated) per recommendations from the CDC for areas with high transmission rates of the COVID-19 Delta variant.
Face masks are optional for everyone. Updated 4/4/22.
TRY OUR DIGITAL BRANCH! Digital books, audiobooks, magazines, streaming videos, free e-courses for continuing education and lifelong learning, and more! Access the digital branch here.
With so much information out there surrounding COVID-19, it's important to assess the source of the information. The CDC, the Wisconsin Department of Health Services, and the Washington Ozaukee Public Health Department are trusted, authoritative sources. Learn more on their websites:
This announcement was last updated on 4/4/22 at 11:37am.