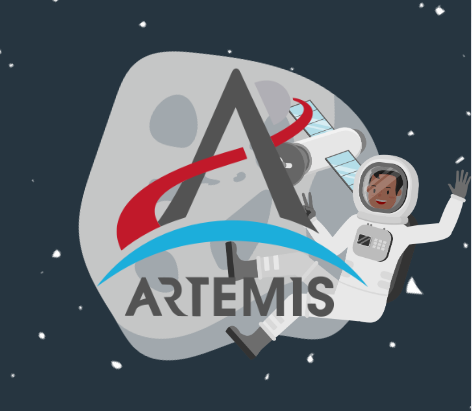 Date: October 12th
Time: 6:00pm
End Time:8:00pm
Location: W.J. Niederkorn Library
Artemis Moon Mission Activity Night
BIG NEWS: The W.J. Niederkorn Library is partnering with the Wisconsin Science Festival and NASA Ambassador, Joyce Jentges, to bring you this exciting program about NASA's newest mission: Artemis.
Join us to celebrate Wisconsin's Science Fest week for a fun-filled night of exploring space and learning about NASA's Artemis Moon Mission. There will be activities for all ages, including moon-themed crafts, a photo booth, and informational presentations from NASA Ambassador, Joyce Jentges who will present awesome photos, videos, and details about NASA's most recent launch in 2022 from the Artemis Mission, the first crewed lunar landing mission since Apollo 17 in 1972. The event will take place in the W.J. Niederkorn Library's Community Room at 6:00pm. Don't miss this exciting opportunity to learn more about the next phase of human space exploration!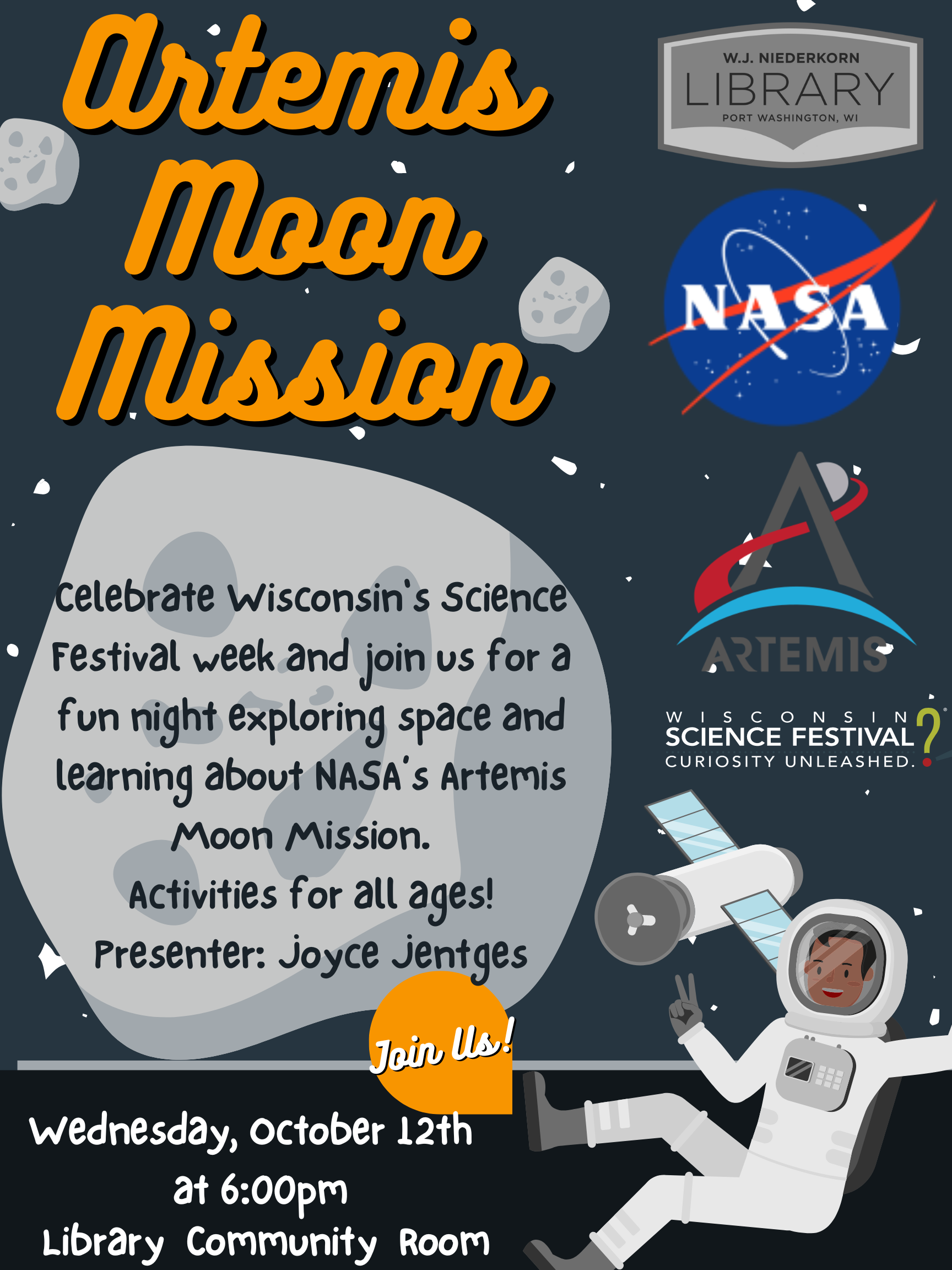 What is the Artemis Moon Mission? With Artemis missions, NASA will land the first woman and first person of color on the Moon, using innovative technologies to explore more of the lunar surface than ever before. We will collaborate with commercial and international partners and establish the first long-term presence on the Moon. Then, we will use what we learn on and around the Moon to take the next giant leap: sending the first astronauts to Mars. Find out more at: https://www.nasa.gov/specials/artemis/

Who is Joyce Jentges? One of NASA's Solar System Ambassadors, Joyce Jentges been an amateur astronomer for more than 30 years. After seeing M13 the globular cluster in the club telescope, she became excited about finding things in the night sky. The astronomy club she belonged to hosted public viewing events where people would look through her telescope. Currently she is the Vice President of the Northern Cross Science Foundation and holds a spot on the board of directors. See more at: https://solarsystem.nasa.gov/ambassadors/2076/
Questions about this program? Contact Adult Services Librarian Alyssa Strzyzewski at astrzyzewski@monarchlibraries.org or by calling the library at (262) 284-5031.