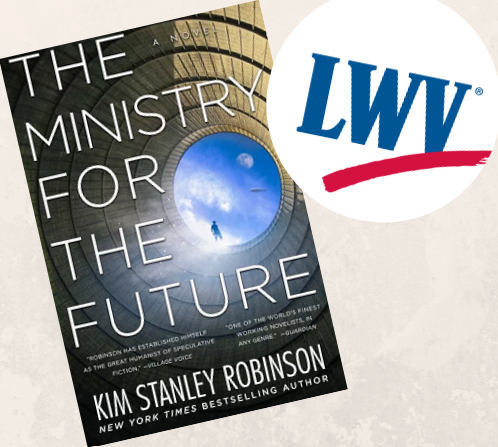 Date: April 19th
Time: 6:00pm
End Time:7:45pm
Location: Library Community Room
Evening Book Discussion with League of Women Voters of Ozaukee
Join this book discussion open to anyone in the community. No registration required!
Vonna Pitel leads the LWVOZ April Book Discussion of The Ministry for the Future, by Kim Stanley Robinson. This event will meet in the WJN Library Community Room on Wednesday, April 19th at 6:00pm.
Book description: The Ministry for the Future is a masterpiece of the imagination, using fictional eyewitness accounts to tell the story of how climate change will affect us all. Its setting is not a desolate, postapocalyptic world, but a future that is almost upon us. Chosen by Barack Obama as one of his favorite books of the year, this extraordinary novel from visionary science fiction writer Kim Stanley Robinson will change the way you think about the climate crisis.
Questions or comments? Please reach out to Alyssa Strzyzewski, Adult Services Librarian at astrzyzewski@monarchlibraries.org or 262-284-5031.