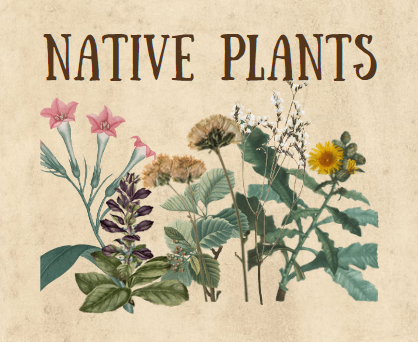 Date: April 15th
Time: 11:30am
End Time:12:30pm
Location: Library Community Room
NATIVE PLANTS: THINKING ABOUT YOUR YARD IN NEW WAYS
Do you want a beautifully landscaped yard with less work so you can fully enjoy all that summer offers? Spring is the perfect time to consider new opportunities. By asking some important questions you can make good choices that fit your personal needs and preferences while at the same time expanding important native habitat in our community.
Join Jill Kunsmann, a volunteer with the Neighborhood Habitat Improvement Project, and learn how she has created spaces of beauty in her yard that also provide a haven for butterflies, birds and all manner of valuable pollinators. Working with what you may already have in your yard, you can continue a natural transition through the strategic incorporation of native trees, shrubs and flowers.
Get additional information on the Observatory's third annual oak and hickory tree giveaway and a NEW spring native plant sale in Port Washington this May with experts on hand to answer your questions and help give you a good start.
This program is co-sponsored by the W.J. Niederkorn Library and WGLBBO. The Western Great Lakes Bird and Bat Observatory (WGLBBO) is the Midwest's most recent bird observatory, and is a non-profit organization, located in Ozaukee County, WI. Learn more about the Western Great Lakes Bird and Bat Observatory here: https://wglbbo.org/.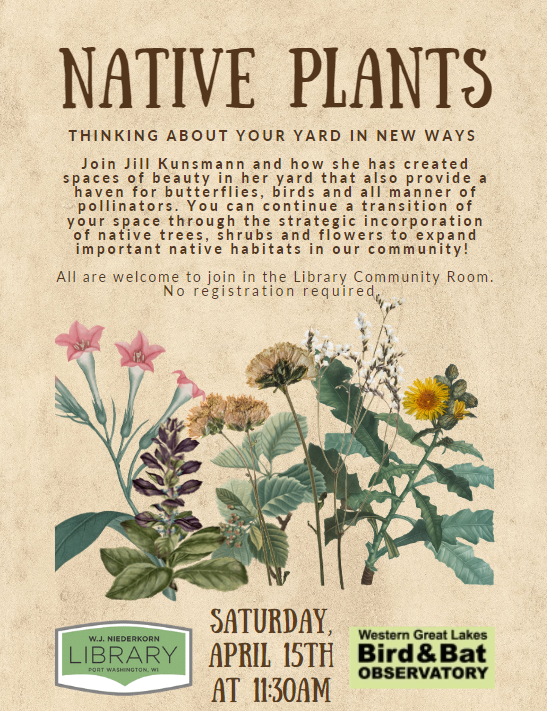 Questions? Contact Adult Services Librarian, Alyssa Strzyzewski at astrzyzewski@monarchlibraries.org or call the library at (262) 284-5031.