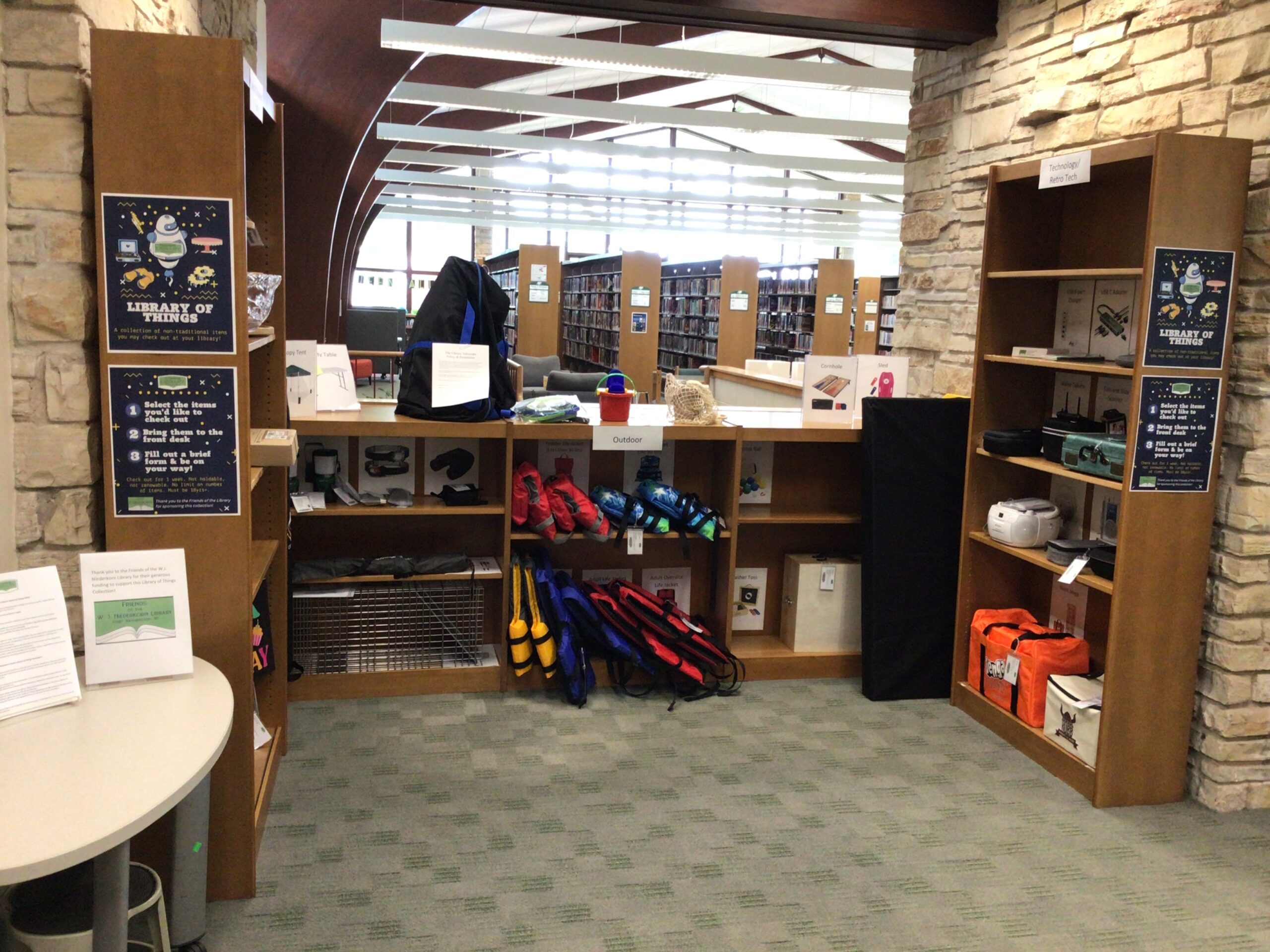 Meet our 'Library of Things!' What is it? A collection of non-traditional items you may check out at your library! Libraries around the nation are offering items above and beyond the standard books/DVDs/magazines/etc. to their communities. We are excited to be able to offer some here!
Huge thank you to the Friends of the W.J. Niederkorn Library who provided the funding for us to start up this collection. These are bonus items – NOT taking away any funding from the standard collections. Thank you, Friends of the Library!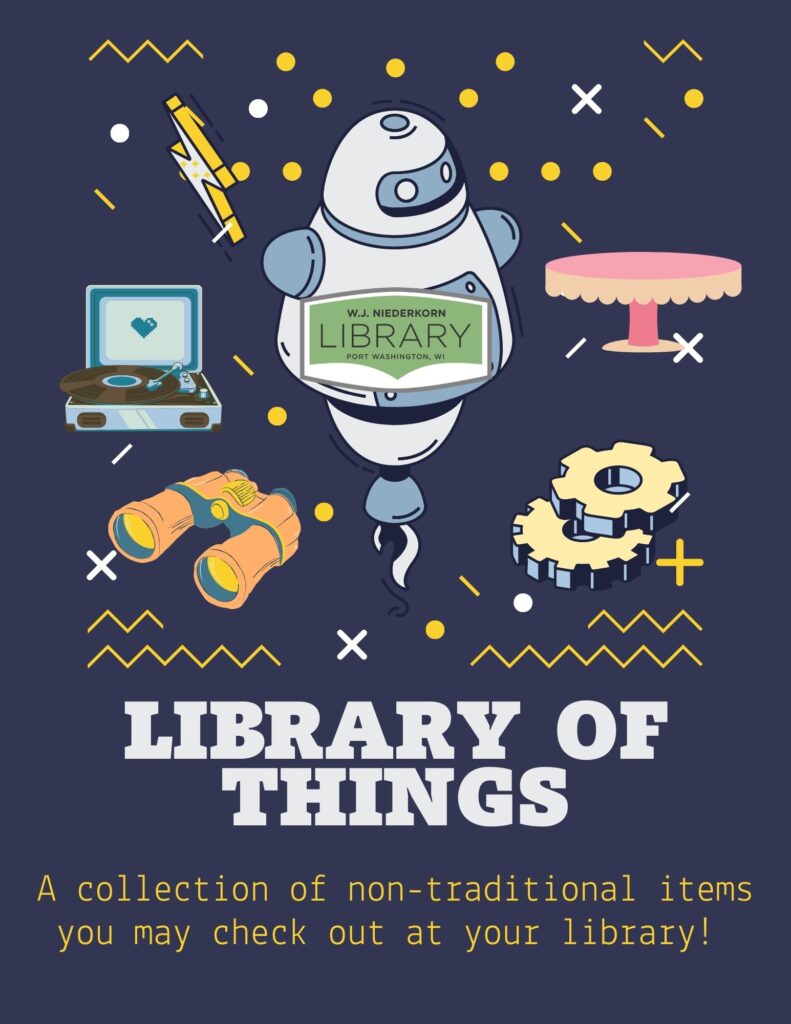 How it works:
Stop by the upper floor of the library and select your 'things' to check out. They are located in the alcove next to the desk where the book drop used to be (yes, come on back there to browse!). When you're ready, bring your things up to the desk to check them out. We have a brief form we'll have you sign first.
Loan time is 1 week
No limit to the number of items!
Not holdable, not renewable
Must be checked out from and returned to the upper floor desk during open building hours
Must be an adult with a valid library card to check out
Items:
Outdoor items:
Pop-up canopy tent
Bags/cornhole yard game
Washer toss yard game
Giant Jenga yard game
Bocce ball yard game
Kubb/Viking yard game
Horseshoe sets
Adult life jackets (regular) – 2
Adult life jackets (oversize) – 2
Youth life jackets (50-90 lbs) – 2
Child life jackets (30-50 lbs) – 2
Toddler life jackets (under 30 lbs) – 2
Walking stick/trekking poles – 2 (coming soon)
Binoculars
Lantern flashlight – (2)
Headlamp – (2)
Sleds – 1 yellow, 1 pink
Plastic sand pail, scoop, and spinning wheel
Silicone sand toy set
Kids fishing net and collapsible bucket
Live trap (large)
Special Occasions/Party:
Cupcake tier stand
Cake stand
Utility table
'Party –>' yard signs – 5
'Honk It's My Birthday' yard signs – 5
Punch bowl with ladle
Disco ball with LED lights
Retro Tech/Technology:
Portable record player
Boom box (plays CDs, cassette tapes, and radio)
Discman/portable CD player
Walkman/portable cassette and radio player
External DVD player (USB A & C connection)
Walkie talkies/two-way radios
Portable Bluetooth speaker
USB (A & C) wall charger
USB C adapter (to USB A, HDMI, SD card, and more)
Simple and compact slide viewer/scanner/convert to digital (35mm film and film)
Do you take donations?
Thanks for thinking of us! If you have an item in mind, please contact Assistant Director Rosalia Slawson (rslawson@monarchlibraries.org or 262-284-5031). Due to the limitations of our space and demand for certain items, we cannot accept everything. But we do appreciate your generosity and would love to speak with you about it.
If you'd like to make a monetary donation for our Library of Things, please contact the Friends of the Library directly at niederkornfriends@gmail.com.
We hope you enjoy this new collection & tell all your friends! 🙂